Elevated walkway added to Arcade's seaside promenade
An elevated walkway mounted on driven metal pilings was built to link the existing entertainment facilities located at Arcade's pier to the historic medieval bridge crossing the river Verdugo in this town of Pontevedra. This action, promoted by the Provincial Council of Pontevedra and the Town Council of Soutomaior, was recently completed by Extraco.
It was decided to use naval antirust aluminium and then treated wood for the floor and banisters, so that the work would fit the environment of Ponte Sampaio —a parish in Pontevedra adjacent to Arcade— as harmonically as possible.
The walkway was elevated in spans measuring 12 metres in length and 2.45 in outer width, and it linked the beach known as Finca de Cagazó to the stone pier located at the bottom of the medieval bridge and the beginning of the stairs —made also of stone— which lead to the road crossing the old viaduct.
The new path, covered by the President of the Provincial Council, Rafael Louzán, at the end of July, some days before it was inaugurated, contributes to integrate and unite the coastline.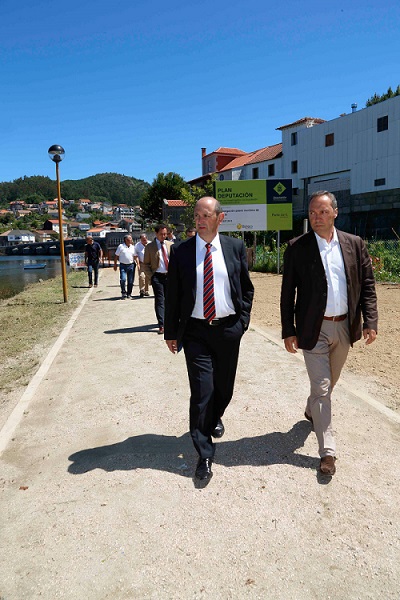 Back