The preliminary results of the "KEOPS" project have been showcased in the International REHABEND 2022 Congress and the ATIGA Innovation Summit
The preliminary results of the R&D&I project known as "KEOPS: Geopolymer cementitious solutions with integral sustainability and high added value based on construction wastes" were successfully showcased in different technical and business forums during the last quarter of 2022.
The project, launched by EXTRACO in 2021, aims at developing new concrete-based formulas with no Portland cement. Instead, they rely on geopolymers that stem from the combination of construction and demolition waste and electric arc slags. The goal is to obtain more efficient and environmentally-friendly construction materials, manufactured using subproducts that were traditionally considered waste (thus boosting circularity in the construction industry).
In addition to cooperating with CETIM and the Polytechnic University of Catalonia (UPC) as technology centers, EXTRACO has benefitted from the input of Cementos Cruz; Cromogenia Units, S.A.; Adec Global S.L. and Perfhorvisa. The project is supported by the Centre for the Development of Industrial Technology (CDTI)-Ministry of Science and Innovation (Ref. IDI-20210195).
The first experimental doses of the geopolymer cementitious solution developed by EXTRACO were presented at the ninth "Euro-American Congress of Construction Pathology, Rehabilitation Technology and Heritage Management" (REHABEND 2022), in a presentation titled "Geopolymer cementitious solutions with integral sustainability and high added value based on construction wastes. KEOPS Project: preliminary findings". The aforementioned congress (one of the most prestigious in its field, held every two years) took place in Granada, on 13-16 September 2022, and was jointly organized by the University of Cantabria and the University of Granada.
Several samples of the new concrete solutions developed by EXTRACO were first shared with the general public on 22 November, at the business summit on technological innovation organized by ATIGA (Galicia's Intersectoral Technology Alliance) and held in Vigo (Pontevedra), under the motto "Future memories". The summit, which took place in "El Tinglado", in the port of Vigo, was hosted by the Galician Innovation Agency (GAIN) and was part of the events organized to celebrate the tenth anniversary of ATIGA, which is made up of the seven most important private technology centers in Galicia: AIMEN, ANFACO-CECOPESCA, CTAG, ENERGYLAB, GRADIAN, ITG and CETIM.
The sample test tubes with the innovative concrete mixes were displayed in the CETIM exhibition space during the visit of Ms. Patricia Argerey (manager at GAIN).
Additional information available in the following links:
https://www.rehabend.unican.es/2022/organizing-committee/
https://www.atiga.es/recuerdos-del-futuro-2022/
https://www.xunta.gal/notas-de-prensa/-/nova/74855/xunta-felicita-atiga-decimo-aniversario-por-contribucion-transformacion-del-tejido?langId=es_ES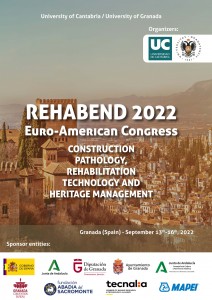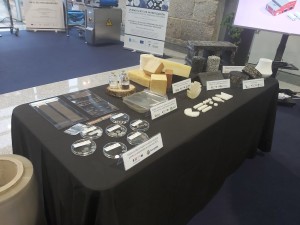 Back