Vigo's Faculty of Mining and Energy acknowledges Extraco's performance and the support it has given to the University
The Faculty of Mining and Energy Engineering of the University of Vigo (UVigo) has acknowledged Extraco's performance with a gratitude diploma recognizing its cooperation in the fields of teaching and research.
Last July, the Faculty held in Vigo the academic graduation ceremony for the students of the different degrees offered at the centre and took the opportunity to commemorate the XXV anniversary of this establishment, handing out accreditation diplomas to those companies and institutions that, for more than two decades, have actively supported its activities, with the placement of students in internships at the companies or encouraging and promoting research, development and innovation projects (R&D&i).
Extraco was one of the companies recognized at the event, attended by the Vice-Chancellor for Research at the University of Vigo, María Asunción Longo; the Director of the Faculty of Mining, Natalia Caparrini, and the Mayor of Vigo, Abel Caballero.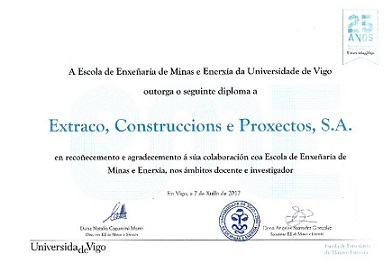 Back