Extraco, major figure of 'Haciendo Galicia' in El Correo Gallego
Extraco is one of the main companies appearing in 'Haciendo Galicia', an initiative of the newspaper El Correo Gallego with which it wanted 'to honor those who, being in the midst of a hostile environment and facing a major crisis, with innovative spirit, perseverance, enthusiasm and assumption of risks and sacrifices, have been able to keep alive a company, get their projects off the ground, build wealth, create jobs and set a high standard regarding the prestige and modernity of our productive fabric'.
The construction company appeared in the central pages of this newspaper at the end of July, with a double page report that recalled the history of the company and included an interview with its president, Pablo Prada.
The information briefly reviews the nearly 50-year-old history of Extraco and highlights that the company was able to adapt itself to the demands of technological and sectorial innovation, reaching and remaining among the fifty construction companies with a higher turnover and presence level in Spain. It also stresses that the company is present in countries such as Portugal, Peru or Panama.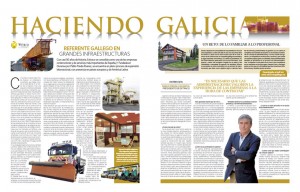 Pablo Prada Valencia also explains that the economic and financial crisis significantly affected the whole industry, but he adds that, thanks to a great effort of its entire staff, Extraco is luckily recovering, having nowadays the largest number of workers in its history. He also highlights the commitment of the company to the development of research projects and recalls that they launched a R&D&i department a few years ago.
In the interview, Prada highlights the human capital of the construction company, with a wide and extensive experience; the certificates that prove the solvency of the implemented management systems, or their own laboratory which allows self-monitoring the materials they use and the products they manufacture.
The article also highlights that, right now, Extraco is in a transformation process to leave the family business condition in order to professionalize its management.
Pablo Prada is clear about the key to success: 'It is about executing the construction works well and quickly: well, because when the works are well done, there is no need for repairs, saving costs and avoiding problems with your clients, and quickly, because this allows you to execute more construction works in less time and, therefore, make them more profitable'.
Back