Extraco ranks 14th in the 'Top 50' medium-sized Spanish enterprises according to Expansión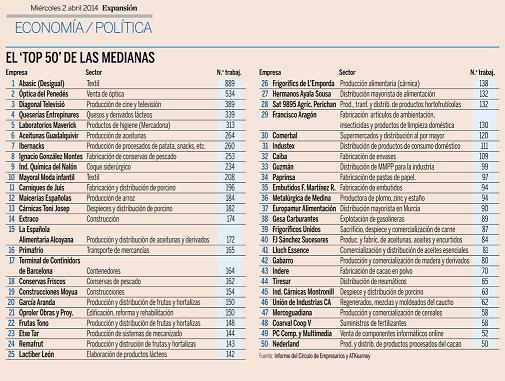 The newspaper Expansión placed the construction company Extraco in the 14th position of the list of the 50 most competitive medium-sized enterprises in Spain, based on the study made by the Círculo de Empresarios and the consultancy firm ATKearny entitled 'Top 50 medium-sized Spanish enterprises, selection of cases of success'.
The information from this prestigious economic newspaper classifies the companies of reference according to their number of employees, based on one of the scales used in the aforementioned report. The company based in Ourense ranks 14th, with 174 employees, and it ranks first in the construction sector.
Apart from the size, the study submitted this week by the Círculo de Empresarios takes also into account other variables, such as internationalization and innovation, management autonomy, productivity (sales/employee), EBIT margin (EBIT/sales) and ROA (net of assets/total assets). Furthermore, the study's scope encompasses the period from 2006 to 2011.
Taking into account the punctuation of all these concepts, the study places Extraco in the 23rd position among the most successful medium-sized enterprises inSpain, and second among building companies.
Lastly, the information recorded in the newspaper Expansión also states that the average number of employees among the 50 selected companies is 148; 58% higher than the group of medium-sized enterprises, with 32% increase in terms of employment between the beginning and the most advanced stage of the crisis, from 2006 to 2011 according to the report. Moreover, Cataluña is the autonomous community with the highest number of competitive companies of this size, followed by Comunidad Valenciana and Región de Murcia. Only three medium-sized Galician enterprises are included in this 'Top 50'.
Back