The "Biovalvo" project, led by Extraco, featured on the TVE program "La aventura del saber"
Last 18th June, the scientific TV show "La Aventura del Saber", on channel 2 of TVE, dedicated its section "La Universidad responde" to the use of mussel shells as a construction material. The experiences resulting from the R&D project "BIOVALVO: The value of Galician bivalve shells in the construction field" —led by EXTRACO and with the Construction Group (gCONS) of the Civil Engineering College of A Coruña as partner research center— were explained. The project was co-funded by the Center for Technological and Industrial Development (CDTI), an organization under the umbrella of the Ministry of Science and Innovation (Ref. ITC-20133094).
The activities of the project included the construction of a test module located at the Elviña Campus, at the University of a Coruña (UDC), using 20 tons of mussel shells. In the TV show, professors Belén González Fonteboa and Fernando Martínez Abella, main researchers, explained how the building was designed and the execution of the foundations, walls, covering and finishes.
Thanks to its unique features, this construction project, designed in collaboration with architect Mike Lehmhaus (from Casadobe studio), became a finalist in the III Passivhaus Iberoamerican Contest (CIPH 2015).
Besides the test module, some of BIOVALVO's outstanding results are the patents that EXTRACO shares with UDC since 2018, regarding a mussel shell-based isolation construction system  and new types of mortars and concretes, which use sand and cement made with mussel shell and have a special finish (Patents respectively published on the Official Gazette of Industrial Property under numbers 2647976 and 2647977).
Currently, BIOVALVO's test module has become a part of UDC's educational equipment. More information on the emblematic building can be found in the following links: http://biovalvo.blogspot.com/ and https://www.rtve.es/alacarta/videos/la-aventura-del-saber/aventura-del-saber-18-06-20/5600769/?t=18m43s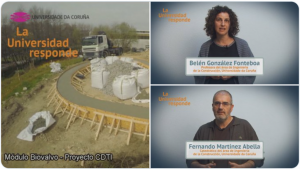 Back