The Ministry of Economy and Competitiveness grants Extraco with the seal of Innovative SME
The Ministry of Economy and Competitiveness-Mineco has granted Extraco  the seal of Innovative SME, a recognition which may be officially used until the end of December 2018.
This title acknowledges their decisive commitment to innovation, which enables their entry in Mineco's Registry of Innovative SMEs and access to specific funding lines.
The company's commitment to research, with its involvement in different R&D&i projects, has led to a successful resolution by the Innovation and Competitiveness Directorate-General, that among the requirements to receive this seal, is mindful that the companies have received public financing in the last three years by means of different aid and projects for R&D calls, or that they have proved their innovative nature in their activities.
Extraco has its own R&D&i Department, created in 2009 to coordinate and standardise the company's research and development and technological innovation activities. To this effect an R&D&i Management System was developed and implemented under the UNE 166002 Standard in the organisation, certified by AENOR and annually audited.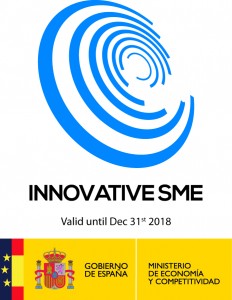 Back