Conselleiro Agustín Hernández uses for the first time the humanization of Travesía de Sabarís in Baiona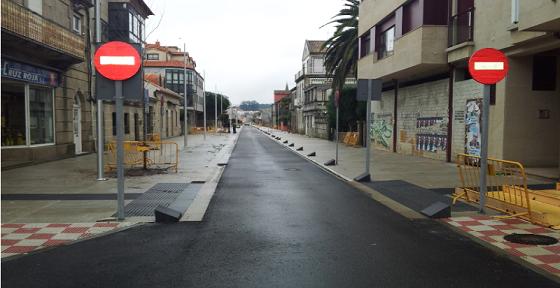 The humanization of Travesía de Sabarís, in Baiona, covers an space of 500 linear metres in Xulián Valverde street, from the roundabout located in the Roman bridge.
It allowed the creation of an organized space with renewed traffic signals and the distribution of ecological points, urban furniture and new landscaped areas with trees. 57 parking places and seven pedestrian paths have been created, making all the necessary works for the canalisation of water supply services, drainage, energy and telecommunications.
Conselleiro Agustín Hernández inaugurated this work at the end of last July, during a visit to Baiona, where he highlighted that the humanization executed by Extraco had reinforced the commercial and tourist character of the place. He remembered that this work had been carried out because of an agreement of collaboration between Concello de Baiona and Xunta de Galicia inside Plan Hurbe.
For this work, Extraco had to demolish the pre-existing pavings and to dig the land for the installation of canalisations, replacing networks of water supply, telephone, electricity, gas and drainage. Afterwards, Extraco placed new granite pavings, special pieces to drainage water of the rain, parking bollards, lamposts and gardening.
Back