The soccer field in Vilar de Astrés, Ourense, renovated by Extraco, is awarded the Fifa Quality Pro certificate
EXTRACO delivered the complete renovation works of the soccer field in Vilar de Astrés, located north of Ourense's capital, to the Sports City Council of Ourense. Such works were completed at the end of June.
Over half a million euros were invested in remodeling the soccer field with artificial turf, renovating the locker rooms, building new stands with a capacity of 150 people and remodeling the outside areas of the sports arena.
The Valencia Biomechanics Institute was responsible for the testing that resulted in the field securing the Quality Pro FIFA Certificate, quality award granted to professional soccer fields. It is the third soccer field in Ourense to obtain this certification due to the quality of their synthetic turf.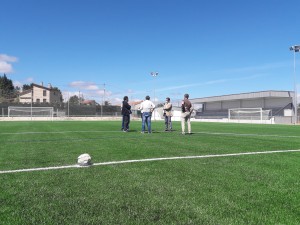 Back