The construction works of the new Intermodal Station of Ourense have started
The temporary joint venture formed by Extraco and Taboada y Ramos has started the construction works of the bus terminal of the future Intermodal Station of Ourense, after being awarded these works by the Xunta de Galicia last May.
This terminal will have thirteen scheduled bus bays and three bus parking bays, and a building of more than 700 square meters where the ticket offices, the luggage storage facilities, the offices and the toilets will be located.
The minister of the regional department of Infrastructure and Housing, Ethel Vázquez, visited the area last 19 September, along with the representative of the Xunta in this province, Marisol Díaz, and the city mayor, Jesús Vázquez.
The works, which have just started, are part of the first phase of the Ourense Intermodal station project, designed by Norman Foster, which also includes the construction of an underground car park with 300 parking spaces. During the first few days, the workers renovated the entrance to facilitate the access of the machines to the construction site and emptied both buildings for their subsequent demolition.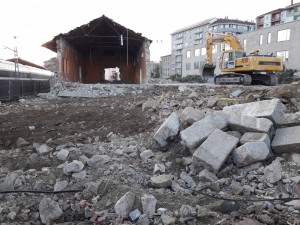 Back