CEPYME has picked EXTRACO as one of the 500 Spanish growing leaders of 2021
The Spanish Confederation of Small and Medium-sized Enterprises (CEPYME) has included EXTRACO among the 500 companies that grew the most during the 2021 financial year.
By means of this distinction, CEPYME identifies, selects, and promotes companies that spearheaded growth (both in terms of business results and capacity to generate added value, employment, innovation, and international outreach).
The 500 winners have joined a very exclusive club and been awarded an official certificate and seal, as proof of their leadership and ability to keep growing despite the devastating effects of the COVID pandemic these past two years.
For additional information, please visit https://www.cepyme500.com/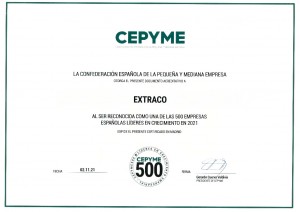 Back