Aenor renews Extraco's R&D&I management system certification
This April, the Spanish Association for Standardisation and Certification (Aenor) renewed Extraco's R&D&i management system certification according to UNE Standard 166.002:2021 for three years.
The abovementioned system was implemented by the company in 2009, when they created their own R&D&i department, and validated by Aenor for the first time in 2011. The scope of the certificate has been gradually growing since that year, alongside with the projects and matters that the company has been addressing through its research and innovation activities.
The following are some of the projects that Extraco has developed throughout these years: Sitegi (technology applied to infrastructure management and inspection), Biovalvo (use of Galician bivalve shells to manufacture new types of mortar and concrete) and Keops (development of geopolymer cement solutions from construction waste). All of them were co-financed by the Center for the Development of Industrial Technology (CDTI), attached to the Spanish Ministry of Science and Innovation.
The long list of projects also includes Innobiorresiduos (agrifood waste utilization for several uses such as the creation of road surfaces), Cenicienta (use of bottom ash from thermal power plants in civil engineering and construction), Geo4Radón (use of geothermal ground energy incorporating aerothermal and thermal solar energy, all of them integrated in a single device), Alfiller (valuation of the asphalt plants recycling filler for the development of cement based ecological products) and Topacio (infrastructure management optimization technology for forest fire prevention). These initiatives were co-financed with the Galician Innovation Agency (GAIN), attached to the Second Vice-presidency and the Regional Ministry of Economy, Businesses and Innovation of the Xunta de Galicia.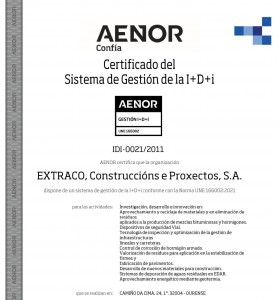 Back