AENOR certifies the quality of Extraco's energy management system
AENOR, the Spanish Standardisation and Certification Association, has validated the energy management system that Extraco has in its main offices, warehouses and machinery workshops. In particular, it has granted Extraco the Energy Management Certificate guaranteeing that the company fully complies with UNE-ISO 50001:2011 specifications.
The auditors verified that Extraco performs a thorough, real-time control of the consumption of the energy sources supplying its premises, especially of electricity and heating oil.
The company believes that it is essential to define actions aimed at achieving the highest energy efficiency rates. In fact, it is a founding member of the first energy services association in Galicia, created in Ourense approximately two years ago.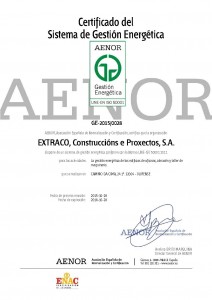 Back