Aenor certifies the update of Extraco's R&D&I Management System
Aenor, the Spanish Standards Association, has endorsed the update and adjustment of Extraco's R&D&I Management System to the new UNE 166002:2014 standard, which replaces the previous UNE 166002:2006 standard.
In particular, this new recognition certifies that the Company has an R&D&I Management System that complies with the regulations in force for leveraging and recycling materials and disposing of waste in the production of bituminous mixtures; road safety devices; technology and linear infrastructures and road inspection, and a corrosion control in reinforced concrete.
Likewise, being aware of the commitment towards customers, the compliance with legal requirements and accident prevention, and its involvement in environmental protection, Extraco has implemented an Integrated Management System in its organization, also certified by Aenor, based on UNE 9001 on Quality, UNE 14001 on Environment, OHSAS 18001 on Health and Safety, and UNE 50001 on Energy Management.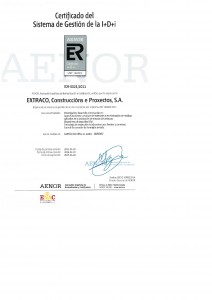 Back