Two R&D&i projects leaded by Extraco launched with success
The R&D&i projects 'Biovalvo" and 'Sitegi', launched by Extraco and other Galician companies, as well as the universities of A Coruña and Vigo, respectively, were successfully presented in Allariz (Ourense), within the framework of the workshop Sustainbility in civil works construction: New perspectives, organized by the building company Misturas, with the collaboration of Extraco, to commemorate its 25th anniversary.
About one hundred people, most of them technicians from different administrations and companies of the sector, attended the event. Other research and innovation initiatives were presented and the program included a technical visit to the chipboard manufacturing plants that Extraco and Misturas have in Allariz.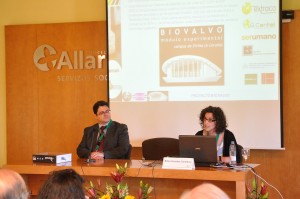 On the one hand, the 'Biovalvo' Project is participated by Extraco, CITEEC (Tecnhological Innovation Center for Building and Civil Engineering) and the University of A Coruña. Professor Belén González Fonteboa gave an explanatory conference which was subsequently completed by a practical demonstration. This initiative defends the use of mussel shells as raw material of reference for foundations, drainage systems or mortars for different purposes.
On the other hand, 'Sitegi' project aims to optimize the application of technology-integrated systems for the management of road infrastructures, with the objective of improving security and reducing maintenance costs. Professor Higinio González, from the University of Vigo, outlined the characteristics of this project, highlighting its contribution to the preservation of roads and other infrastructure. Extraco, Misturas and a consortium of Galician companies participated in this initiative by devising software and technology for the inspection of roads, which was installed, together with other measuring systems, in a vehicle similar to the one used by Google for its street view tool. The technicians who attended the workshop had the chance of seeing this prototype in situ in Allariz.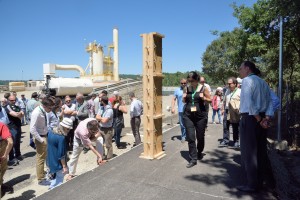 Back